Birgitta Boucht
Tusenblad, en kvinna som snubblar
"Millefeuille, a woman who stumbles"
Rights: Schildts Förlag www.schildts.fi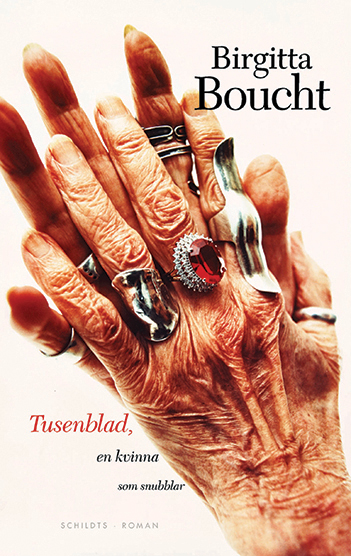 An elderly woman has a fall in the bath, breaking her hip. As she lies there, trying to stay alive as she waits for help, her memories and reminiscences elevate her pulse: memories of being a child and being a mother, of opting out of having children and opting out of having men – of women's fates and strategies, along with the consequences they can bring.
Millefeuille is the daughter of an extremely beautiful, strong, unhappy woman who, just like Garbo, was called Greta Gustafsson and came from Sweden, and a kindly, timid father who died early on. Who is Millefeuille herself? That is what she has always found difficult to get to grips with. If Millefeuille had been born a boy, she would have been called Flipchart because – as her mother put it – "I want to be able to draw on them. (…) Draw and then tear them up. Draw on them again. Tear them up again if need be." Greta's friend Elsa, on the other hand, is the embodiment of a good mother, with her never-ending love, and Millefeuille grows up in the midst of a warm embrace and a severe stare. In her own life she chooses to refrain, to opt out.
Birgitta Boucht is adept at saying things directly without sacrificing complexity. She is wise without being overbearing and funny without being flippant. Even though Tusenblad, en kvinna som snubblar ("Millefeuille, a woman who stumbles", 2011) is about an ageing woman, it has found a particularly receptive audience among young readers. This is a book with something reassuring to say about big issues like good, evil and forgiveness. This is an author who touches her readers.
Boucht's previous publications include numerous works of poetry, prose and contributions to anthologies. In Tusenblad, en kvinna som snubblar her writing has matured into a masterful simplicity. In reading Birgitta Boucht, one glimpses the majestic in seemingly small, insignificant gestures.
Anna Friman, editor, Schildts