Bo Carpelan
Blad ur höstens arkiv
"Leaves from autumn's archive"
Rights: Otava Group Agency (OGA) www.otava.fi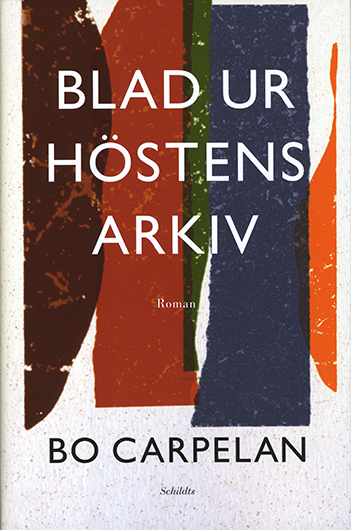 Bo Carpelan's final novel, the melancholic Blad ur höstens arkiv ("Leaves from autumn's archive", 2011) consists of a series of prose sketches. They are written by the character Thomas Skarfelt, who notes down his experiences, thoughts and impressions about childhood, ageing, sex, music, nature and writing. He does this with Bo Carpelan's sense of poetic objectivity. He uses the linguistic virtuosity that can only be achieved through a lifetime of writing and thinking.
Carpelan (1926–2011) ranks among Finland's most significant authors as well as having the greatest number of awards and prizes to his name, including the prestigious Le Prix Européen de Littérature. His output encompasses prose, poetry, books for children and young people, literary reviews and translations.
Thomas Skarfelt is an ageing civil servant who has spent his whole life working with statistics. One autumn he heads out to his summer cottage on the island of Udda to find some peace, some balance, something that he is lacking – but mainly in order to be able to pay regular visits to his mother, who is in a care home. A neighbour pops round, as does a lad called Slanten. The plot line is minimal; events do not play out at the level of outward actions, but rather seek out different, more meandering perspectives.
"I sit here on Udda and write. Is this a meaningless activity? If it were, would I still write? What am I looking for? A balance between discord and harmony, a language that is my own. Waiting, patience, longing for words that have poetic objectivity! What a presumption! And without that? Without that precise waiting, that precise text?"
This is daily life, viewed with Carpelan's intelligent, amiable and sometimes caustic eye: the mundane imbued with meaning by someone who never ceases asking questions.
The reader finds herself at the core of great philosophical questions without having noticed being on the journey there. The big questions: right among us, no more remarkable than a bird taking flight from its branch, no weightier than a cloud scudding overhead.
Anna Friman