Riku Korhonen
Nuku lähelläni
"Sleep close to me"
WSOY (2012), 287 p.
Rights: WSOY Foreign Rights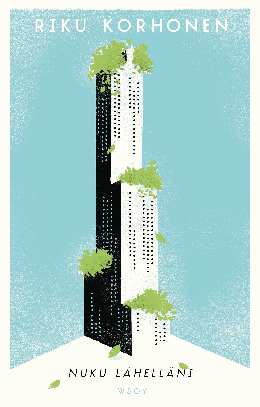 Ever since the publication of his award-winning debut novel, Kahden ja yhden yön tarinoita ('Two- and one-night tales', 2003) Riku Korhonen has been analysing social issues. In his latest novel, he has taken an approach common to a number of other contemporary Finnish writers in broadening his scope to encompass everything from the reality of Finnish housing estates to the centres of global finance and power. The title of this book, which translates as 'Sleep close to me', evokes an expectation of closeness and warmth. Korhonen's novel, however, is dominated by an image of a masked anarchist raising his fist amid a cloud of tear gas.
The protagonist in this work is Teemu, who lives in a state of arrested development. He travels to a Central European financial centre to collect the body of his dead brother. The dead man had worked in the management team at a major bank, but his body was found near the site of an anti-globalisation protest, his face covered with a mask. What had been going on in the brother's double life?
'Sleep close to me' presents a pessimistic portrait of our time. Reason has broken down as a result of the financial crisis. We are living in an 'era of values run astray', like that preceding the Second World War. Figuratively speaking, the churches lie in ruins and stone tablets have crumbled, while people are filled with emptiness and hatred. Teemu envisages restlessness and violence in the near future: "[P]erhaps this was the start of a time of tribulations, which would train consumers into intelligent, angry survivormen."
Along with its analysis of the state of the world, 'Sleep close to me' is a love story. Teemu falls in love with Nina, his brother's former girlfriend. The relationship between them is presented as a power relationship, and it is the man's duty to perform the gestures of ownership. In the novel, "[A] woman desires to be taken" and beaten. Nina desires to fear, to see the masculine darkness within Teemu. She has violent fantasies that give vent to the hatred she has bottled up deep inside. Is this relationship an eternal pattern or merely a one-off? Perhaps Teemu and Nina's relationship is emblematic of its time, as its emotional arc is metaphorically accompanied by commercial factors: equity, returns and risk are equated with desire, hope and sorrow.
Nevertheless, people are dependent on their surroundings. Family problems come to the fore alongside the relationship: the difficulty of gaining one's independence, alienation between even close relatives, the wounds ordinary middle-class parents cut into their children. In some scenes, Korhonen seems to adapt Tolstoy's well-known line about happy and unhappy families: "All families have plenty of things that ought to be swept away, but every family also has things that would be a crime to forget."
Along with remembering and forgetting, this novel thematises future-orientated states of mind such as hope and belief. The book asks whether it is better to believe or to doubt, and it replies that certainty is not what people want. Values give rise to uncertainty, as a banker assures Teemu. Teemu also refers to Spinoza's notion that "hope is a joy not constant". Perhaps that is the best we can achieve in life and love.
Tuomas Juntunen, translated by Ruth Urbom