Mooses Mentula
Isän kanssa kahden
"Like father, like son"
WSOY (2013), 366 p.
 Rights: WSOY Foreign Rights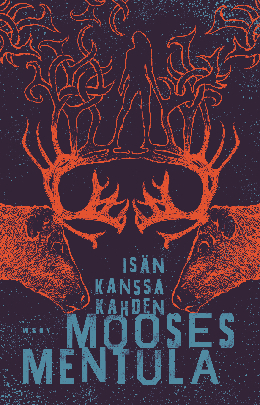 Lapland in the 2000s: there are no ramps for skateboarders, reindeer husbandry is increasingly either under the control of the EU or an exotic spectacle for tourists, and many men live alone. Lapland is different from the metropolitan centres, but still also home to thousands of people.
Mooses Mentula's debut novel 'Like father, like son' maintains a superb balance between the exotic and the everyday in Lapland. Pulling no punches, he highlights the polarity of South and North, urban identity and rural simplicity so sharply that on every page one feels sure he is going to fail. But he never does. Mentula recreates and restores every single detail of a culture that even to Finns has become increasingly alien because it has so seldom been portrayed in literature in modern times.
In Mentula's dramatic chamber play about a small family that is threatened by break-up, the traditional poles of north and south are brought to a head. Marianne, the mother, has rebelled against her upper middle class Helsinki family and sought a new life in Lapland. She has learned Lapland crafts and joika singing, but yearns more and more to return to the South. Her husband Jouni has reindeer husbandry in his blood. He knows all about fishing, forestry, motor sleds and tending reindeer, and is secure in his own culture. But between the two parents there is a gap that cannot be bridged by willpower alone, strong love is needed in order to endure. In this gap lives Marianne and Jouni's eleven-year-old son Lenne, who does all that he can to avoid hearing his parents quarrel. He makes a nest with his duvet and presses his pillow against his ears. During the daytime he gets into trouble at school. With increasing desperation he hopes that the new class teacher Jyri will one day hear his story about the hell he has to put with at home. But although Jyri can hear Lenne's distress, he is unable to help. Jyri himself is a big baby who is also torn between North and South, the result of a one-night stand between his mother and a travelling jewelry salesman from Lapland. He has not yet severed the umbilical cord between the two poles, but continues to float in an existential gap. It only takes one glance for him to fall in love with young Lenne's mother, and she with him. Rootless and incomplete, how can he possibly help Lenne?
Mentula's novel about people who are helpless but have to make major decisions possesses both emotional power and knife-sharp realism. Thirty-seven short chapters with changing protagonists portray a group of people over a period of about a year, all of them preoccupied by the search for a home. During the past few decades many authors have written books about everyday life beyond Finland's borders, but Mentula writes with both comedy and sadness about a rural community that is far removed from cafés and skateboard ramps. In the community lives a little boy whom his father has taught how to throw a lasso around the horns of reindeer and cast fishing nets. Will he remain there, or will he move with his mother to an apartment building in the South? The yearning of the grown-ups to find a home is powerful, but who asks what the child longs for?
Maria Antas, translated by David McDuff