Tiina Vainio
Saunajooga. Rauhoitu ja rentoudu.
"Sauna Yoga. Finding calm and relaxation"
WSOY (2012), 144 p., four-colour illustrations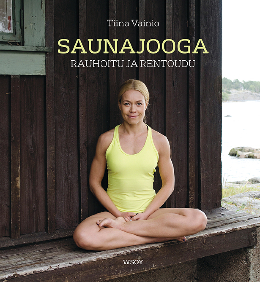 "Silence and a good mood are within everyone's reach – all you need to do is open the sauna door."
Tiina Vainio, the author of this book, experienced her moment of realisation when, at the age of 39, she calculated that if she lived for the average expected life span for a Finnish woman, she had around 15,000 days remaining. Vainio decided to start consciously cherishing every day of her life "and not to let anyone, even myself, spoil any of them".
One of the results of this insight is the 'Sauna Yoga' book. With clear instructions and pictures, it shows relaxing and energising movements for morning and evening. The sauna yoga method developed by Vainio is more than merely a series of movements to be done in mild heat. The book's philosophy guides readers to examine friction points in their own lives which can lead to stress, mental and physical tension, insomnia and the consequences of these symptoms.
The yoga positions in the book have been divided into series, which have titles such as Morning – strengthening series, Evening – relaxing series and Rest – back-care series. The optimal temperature for sauna yoga is around 50°C, but the movements can also be done without a sauna. All you need is a focused mind and some quiet time set aside for yourself. Vainio recommends starting gradually, but aiming to build up a daily routine. The movements are designed to stretch backs, necks and shoulders stiffened by sedentary work.
It is recommended to practise sauna yoga at the interface between work and leisure time, when it can be difficult to shift from one reality to another due to the blurring of the boundaries between work and private life due to modern technology. In order to stay healthy in both body and mind, we need to calm and cleanse our daily workload. Sauna yoga is an excellent way to achieve this.
This book also gives advice on superfoods that help to reduce tiredness, headaches and other ailments. Vainio recommends various refreshing and calming drinks and snacks. They can be prepared at home using ingredients such as green tea, nettle, mint, camomile, honey, ginger, maté and oat drink. The ingredients are readily available. The book also shows you how to prepare your own treatments to invigorate or exfoliate your skin. These can provide a little pampering after a sauna yoga session – the crowning touch on your relaxed mood.
This book is eminently inspiring, and it encouraged me to try out the series of movements as well as the refreshing drink recipes. The 'Sauna Yoga' book can even give readers a nudge towards more fundamental lifestyle changes and lead us to ask what's really important in life: pursuing achievements even at the risk of our health, or overall well-being which also radiates into our environment.
The design of this book is very pleasing to the eye. Photographer Charlotta Boucht has succeeded in capturing the lyrical landscapes of the Finnish summer as well as the subdued atmosphere of the sauna. The book's cover is inextricably linked with the philosophy of sauna yoga. It exudes the same serenity and relaxation which Tiina Vainio's precise yet gentle instructions aim to help readers attain.
Tuula Kousa, translated by Ruth Urbom