Denis Vinokur
Von Hertzen Brothers – Lähikuvissa
"The Von Hertzen Brothers – Close-ups"
Johnny Kniga (2011), 140 pp., illustrated
Rights: Johnny Kniga foreignrights.wsoy.fi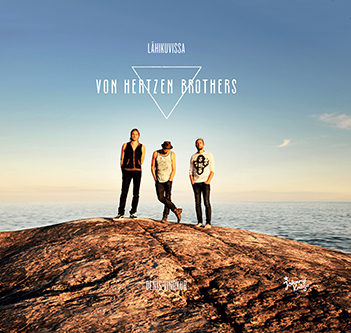 One of the most intriguing Finnish bands at the moment are the Von Hertzen Brothers. The group, comprising three brothers – Mikko, Kie and Jonne – as well as two other members, play modern epic rock that still gives a nod to tradition. They have achieved gold-disc sales in Finland, and in 2011 they signed a global contract with Universal Music. In the UK, the Von Hertzen Brothers were nominated for the Roll of Honours Award 2011 (New Band of the Year) by Classic Rock magazine.
Denis Vinokur, the editor of this book, has accompanied the band on their journey for years with his camera and has compiled a cornucopia of interviews and photos in this book to create an honest, unpretentious portrait of a unique band. In the book, every member of the band gets a chance to speak about his role in a group where three brothers' musical passions come up against one another. Mikko von Hertzen's ongoing spiritual quest and their connection to the Indian mother and spiritual leader known as Mother Amma, are evident in this book and can be heard in the message of universal love in the group's lyrics. There is a demand for that now in our conflicted world.
This book delves into the problems of doing things together, the difficult process of relinquishing your own ideas and coming up with new songs, stage fright and the degree of commitment the band show towards their work. Jonne, one of the brothers, has this to say: "It's a hell of a lot easier to play in a band with people other than your own brothers." The group's musical ambitions can be seen and felt at gigs, where, as their drummer puts it, "they get so totally into it, and then I get so caught up in the momentum that I can't let the flow stop. Then both of my hands are swollen. I feel like smashing the sticks through the drum heads and going home."
This book is not a typical book for fans; it is more of an open portrait of the difficulties and fruits of creative work. It provides food for thought for anyone who is looking to find their own path. Nor is this book short on self-deprecating humour. Mikko tells of his first appearance in India, where he ended up singing on stage, unprepared, in a voice that was too high-pitched. After two songs, the audience – including the laughing Mother Amma – had just about had enough.
Jonne talks about the difficulties of performing live, the inevitable fame that comes with their work and the liberating power that comes with being in a band. Kie, with 20 years' experience of playing in bands, has discovered the relationship between his own sense of perfectionism and how to convey it to others when performing.
Candid conversations with the band members reveal the importance of following their own paths. They also had to rely on their own vision when top producers turned away these now extremely popular musicians early in their career.
Denis Vinokur's stylish photography tells its own story in a way that is both tender and fierce. The photos effectively convey the atmosphere at gigs, the passion for making music, rehearsals, relaxing outdoors, and many people connected with the life of the band.