Tuhannen ja yhden yön erotiikka
"A thousand and one nights of erotica"
Otava (2011), 240 pp., illustrated
Rights: Otava Group Agency (OGA) www.otava.fi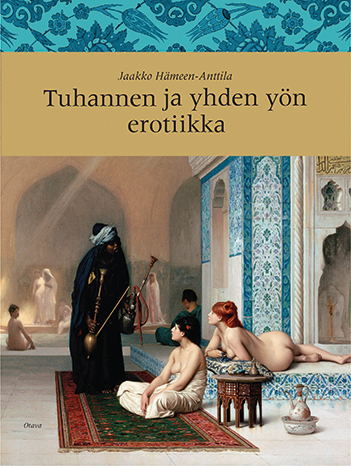 Romanticism, eroticism and sex have always been part of Middle Eastern culture. People wrote a great deal of naughty stories as well as pure pornography when Arab culture was flourishing in the medieval era, about subjects ranging from the daily goings-on in brothels to the sultans' harems. Physicians drew up treatises on everything relating to sexuality: from venereal diseases to contraception, from penis enlargement to the psychology of love.
Professor Jaakko Hämeen-Anttila's A thousand and one nights of erotica is a book of rare quality, even when assessed on an international scale. Its scope encompasses medieval Arab eroticism and sexual mores, seduction skills, the secret and the forbidden – including within marriage. Reading erotic texts conveys a rather uninhibited impression of Arab sex lives.
Professor Hämeen-Anttila is also well-versed in the writings of religious scholars. They wrote about the way things ought to be, rather than the way they actually were. The truth about eroticism in that era may well lie somewhere in between the erotic and the religious writings.
Aided by Prof. Hämeen-Anttila's brilliant translations of authentic texts, the playful, sensuous side of the Middle East opens up to the reader, expanding our understanding of Arab culture. The texts he has studied describe sex, eroticism, passion and desire easily and freely.
A Gentleman's recreation advises readers how a gentleman should purchase his slaves, as well as how a gentleman should eat and drink, sleep and make love. That guidebook maintains that women should not be touched beneath their harem pants until things have progressed to kissing and tickling. A man desirous of intimacy would do well to remember the saying: "Shower her in kisses and reap the harvest in bed." The author of the guide, Rabbi Samuel of Morocco, wrote in a refined style, but the unabashed vulgarity of many of the other examples cited may prove testing for contemporary readers. Readers may nevertheless become absorbed in the naughty stories, although as the 13th-century writer Tifashi stated, "the educated populace must be permitted to joke about even erotic themes among their own kind, but when common folk are present, it is advisable to refrain from excessive liberalism and to guard one's reputation".
The exotic, sensuous East was romanticised in the narrow-minded West. The lavish illustrations in this book include a number of works by Western artists whose imaginations were fired by the harem and other erotic subject matter.