Syysvieraita
"Autumn visitors"
Teos (2012), 288 pp.
Rights: Teos www.teos.fi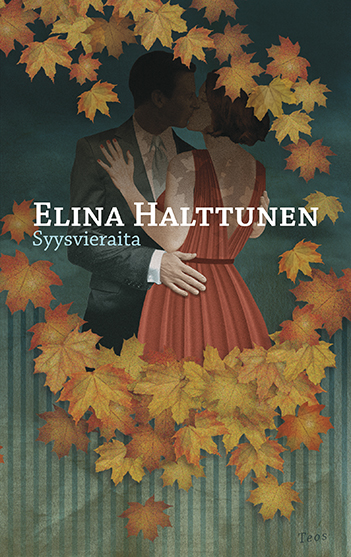 In this, her second novel, Elina Halttunen continues with many of the same themes that featured in her highly praised debut work Saaressa kaikki hyvin ('Everything's fine on the island', 2009). At its core are an extended family and its secrets. Halttunen introduces a broad cast of characters, and the narrative shifts around in time via rapid transitions. In her latest work, the world appears straightforward, though that appearance can occasionally be deceptive: Halttunen depicts powerful events and focuses on them without overburdening them with sentimentalism, and she writes about lies, love and hatred as self-evident parts of life that people experience. It takes real skill to intertwine four women, four men and a total of five love stories and to intermingle the universal feelings of passion, disappointment and shame.
Contemporary literature does not usually elevate elderly, independent women to the status of a main character. The two friends Aili and Edith in this book are a refreshing exception:
"They say old age doesn't come on its own and is a miserable companion. Fortunately Aili and Edith had each other." The friends know their way round the streets and cafés of Helsinki, the Finnish capital, as well as their own homes, and the city is like a good friend – as is Halttunen's narrative voice: warm and humane.
Aili Plyhm was the lover of industrialist Oskari Falk for fifty years, and Falk had bequeathed his flat and a sealed envelope to her upon his death twenty years previously. Aili had been scorned and derided for her relationship with a married man, which had begun soon after the war, but the defiant Aili managed to withstand the pressures surrounding her. Even when Falk was widowed in the mid-1960s, Aili did not accept his proposal of marriage, choosing to remain as his lover, with their relationship remaining the city's open secret.
Maria, Oskar Falk's granddaughter, was very dear to Aili. Aili worked as a dresser in the theatre, and she had her own job, income and home, where little Maria came to visit regularly with her grandfather. Aili's best friend Edith, a dancer, empathises with her own romantic worries. Maria's blunders in her own relationships constitute the present-day phase of the novel, but they also illuminate the fates of the characters from previous generations. The tension set out in the very first pages of the book comes to an astonishing climax when Aili's secret is finally revealed.
Elina Halttunen's unforced way of unpicking even the most difficult knots from the past makes this novel with its complicated interpersonal relationships warm and humane, without descending into soap-opera clichés. One of the logical consequences is that things partially fall into place: even when things may appear hopeless, hope will overcome.
Nina Paavolainen, translation Ruth Urbom