Fallstudie
"Case Study"
Schildts (2004), 175 p.
Rights: Schildts & Söderströms www.sets.fi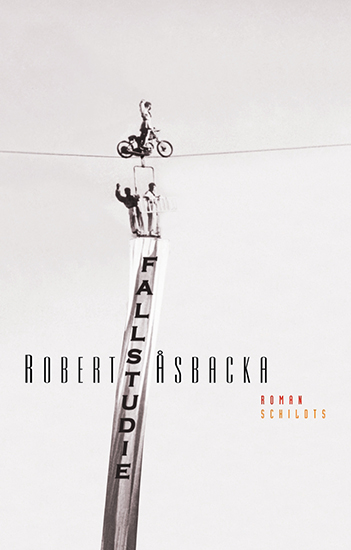 A disastrous error has occurred in the upper echelons of the art world, and now people are desperate to preserve their honour and not lose face. Robert Åsbacka's novel Fallstudie ("Case Study", 2004) follows Ralf and Øystein, two odd-job men who drive round Stockholm in a Ford Transit van on an urgent mission: they need to get hold of materials for two art installations and assemble them to the artist's specifications within a very short time. The materials they have to find, load, crush and assemble are: three hundred kilograms of magnets, several bathtubs, a couple of empty oil drums and a crate of iron wire. They've got one day before the gala opening in the prestigious gallery at Kulturhuset in central Stockholm. The catalogue has been printed and distributed, and Queen Silvia of Sweden has promised to come and unveil the exhibition. The only thing that's missing is the artwork.
The story encompasses multiple realities, milieus, cultures, class signifiers and lifelong deceptions. The novel depicts the relationship between concrete, physical labour, which is accorded low status, and abstract, artistic work, which is held in much higher esteem. Both Ralf and Øystein are products of physical labour. Ralf's family moved from Ostrobothnia in Finland to the affluent Sweden of the 1960s to look for work after the farm where they had been working was no longer viable. Øystein, on the other hand, has fled a legacy of hard graft in Norway in order to attempt to make it as an artist in Stockholm. Åsbacka moves smoothly through time and space, seamlessly connecting history to the present.
Robert Åsbacka has found a niche for himself in the uneasy tension between the work of the intellect and the body. He himself has worked in ports and warehouses as well as in academic settings. He has journeyed across class boundaries, and these experiences provide the raw material for the simple, organic narration in his novels; the intelligent, unobtrusive humour; the melancholic sadness and the eye for the unique and the ridiculous in a totally ordinary person's life.
Fallstudie is the first work in a loose trilogy of novels, whose other titles are Kring torget i Skoghall ("On Skoghall square", 2006) and Orgelbyggaren ("The organ-builder", 2008).
Anna Friman