Lola uppochner
"Lola Upsidedown"
Schildts & Söderströms (2012), 461 pp.
Rights: Salomonsson Agency www.salomonssonagency.se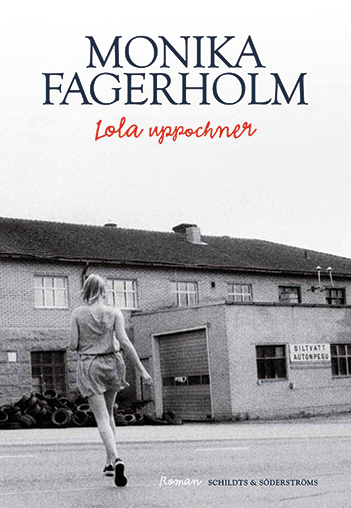 Monika Fagerholm's latest novel Lola Upsidedown is a portrait of youth, an era, and a society: a wide-ranging, multi-layered novel with a thrilleresque plot. What happened in the small town of Flatnäs in 1994 on the night after a teenage party in the posh house by Skitviken (which translates as 'Shit Bay')? Who's behind the brutal murder of the young man in the sandpit? Is there a motive? Why has the world-famous documentary filmmaker's 'Juliette' trophy from Hollywood vanished? And what's really in the diaries that are discovered 17 years later in the belly of 'Lola Upsidedown', a large rag doll?
The small town in Monika Fagerholm's novel is much more than a prim, ordinary façade. Everyone there seems to have a quirky back story, to a greater or lesser extent: Jana, a sporty 15-year-old, who moonlights on the till at the convenience store; society girl Anna, 18, one of the 'chosen few', with a suntan from Redondo Beach, California; Anita, aged 19 and a wheelchair user, surrounded by books up in the tower of 'The Mill', the strange house that will soon have to be sold. Secret and not-so-secret networks bind them all together: high and low, the hot-dog seller and the small-town dandy, the estate agent and the dope pusher. And the police – twin brothers with mirrored sunglasses – are ensnared just as the others in the tight web of small-town relations, gossip and co-dependent relationships.
After four novels focusing on young teenage girls, Monika Fagerholm covers a wider range in this book. And even though two grisly murders are committed on the pages of this novel, the emphasis is more on the abundant variety of human life forms the crimes indirectly bring to light. Fagerholm's humour and her feel for language, the revealing, idiomatic expressions she uses, contribute to an atmosphere in this thriller that often verges on exhilarating.
Fagerholm's style is at once colloquial, multi-layered and literary, which goes some way towards explaining her popularity among the reading public as well as her discriminating fellow writers. Several of her books have been translated into a total of 12 languages. A theme that could have been taken from a traditional young adult book gets an imaginative, even avant-garde, touch in the hands of Monika Fagerholm.
Trygve Söderling, translation Ruth Urbom