Maihinnousu
"Normandy landing"
Like (2012), 209 pp.
Rights: Otava Group Agency www.otava.fi/oga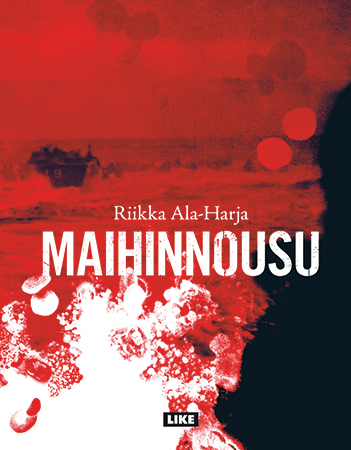 Julie has lived her whole life in Normandy, with the exception of a two-year stint spent in Berlin studying the history of the Second World War. She was planning a career in academia – researching the mundane, unexplored aspects of the war, how the German occupying forces lived quite normal lives in France for a brief time: they fell in love and took care of women, children, houses, the land. Then she met Henri, and soon Emma was born. Julie lived the life of a happy woman, serving as a guide for tourist groups on the peaceful coast that served as the bloody stage for the largest invasion of the war in 1944.
"Emma wants to be attacked and tortured, Emma shouts 'don't torment me', Emma giggles hysterically, Emma sits on top of me and grasps my hands, we roll around on the bed, I push back, Emma rolls over, I resist. Emma is on my back; we wrestle until Emma wins.
A bruise is visible under Emma's shirt.
Calm down, I beg.
I lift up the hem of Emma's shirt.
There is a large bruise underneath.
I pull Emma's shirt off.
Emma's chest is covered in bruises, and she's got them down her sides and on her arms."
Julie becomes a woman whose young daughter is gravely ill. Julie is also a woman whose husband has found a new, younger lover – at the age of 41, Julie is suddenly losing the people who are most important to her. She faces the battle of her life.
Riikka Ala-Harja makes Julie's feelings of loss tangible to the reader; she inhabits Julie's skin and her thoughts that ebb and flow among Emma, Henri and the events of the war like the Normandy tides. Will Emma get better? Will Julie leave her husband? How will she manage; what is her solution – will she be able to do it? What kind of woman is Julie, and what kind of woman does she need to become?
"I sleep, I run, I smoke, I hear the woman downstairs making love, I do what I want, my hair is growing but I might cut it short again, […] Emma is strong and brave, I'm tough, I don't stammer, I'm vocal, I'm amazed at how the battle is fading away and changing into a harmonious peace and how the battle has not been in vain. The war wasn't called off; there was a war, and the war carried on until one day it ended."
Riikka Ala-Harja manoeuvres the reader through the past and present. She adds a sprinkling of details from military history and vivid descriptions of Normandy throughout the book. She includes touching descriptions of an eight-year-old child's impulsiveness as well as of illness, a parent's distress and protective instinct, a grown woman's frustration – and the desire to get through it all. Normandy landing is a beautifully written story about abandonment, perpetual change and growth. It is an impressive, harmonious work, the best of Ala-Harja's oeuvre to date.
Johanna Sillanpää, translation Ruth Urbom