Anteckningar om Mannerheim
"Notes on Mannerheim"
Söderströms/Atlantis förlag (2011), 160 pp.
Rights: Schildts & Söderströms www.sets.fi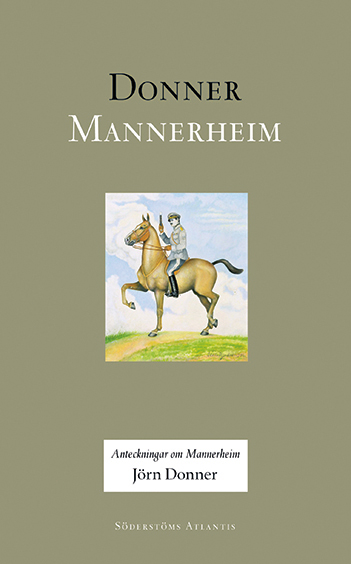 Member of the Swedish-speaking nobility, Russian military officer, friend of Churchill and, above all, legendary commander-in-chief for all of Finland's military conflicts in the 20th century. Marshal C.G.E. Mannerheim (1867–1951) still regularly tops the list in public opinion polls to choose the 'greatest Finn in history'. Many refer to him as the saviour of the nation. Behind Mannerheim's equestrian statue – a familiar landmark in the centre of Helsinki – is the story of a fascinating life: dramatic, diverse, and often astounding.
Even so, the person in the uniform can sometimes appear strangely inscrutable. As Jörn Donner notes, the Marshal of Finland never gave any interviews. Thus a comprehensive mythology came to be built up around him. This has been characterised in part by a nationalistic pathos which has had a tendency to downplay certain features such as Mannerheim's 30-year stint serving the Russian Empire under the tsars, as well as the fact that his French pronunciation was probably better than his Finnish.
So who was the real person behind the stiff military bearing and the neatly trimmed moustache?
Jörn Donner's latest book, Notes on Mannerheim, is a meticulously researched, entertaining and highly personal essay. The volume, which accompanies a comprehensive five-part TV documentary, approaches the figure of Mannerheim from a wide variety of angles.
The grand narrative follows Mannerheim's career, ambitions and decisive choices in tandem with the life of Mannerheim, the man. This book also serves as an annotated introduction to the history of modern Finland and Europe, even after Mannerheim's death. Donner peppers his text with reflections and asides: what would Mannerheim have made of the fall of the Berlin Wall, the Schengen Agreement or Nato?
Against this mosaic of the highly personal and the international, Mannerheim the man is always considered in context, always with an eye for telling details. Less familiar aspects are addressed as well: Mannerheim the explorer on a Russian spy mission in Asia; Mannerheim the letter-writer; Mannerheim's attitudes towards women, food and horses.
The author himself takes on a significant supporting role in this book: once an irreverent youthful critic of the cult of Mannerheim, today Jörn Donner has lost none of his irreverence, but now tempers it with a nuanced, often empathetic portrait of the man behind the myth. This book can be regarded as a meeting of two key Finnish cosmopolitan figures.
Trygve Söderling, translation Ruth Urbom