Alldeles hemlikt: Georg August Wallins Egypten 1843–1845
"Quite like home: Georg August Wallin's Egypt, 1843–1845"
Svenska litteratursällskapet i Finland/Atlantis förlag (2012), 460 pp.
Rights: SLS – Svenska litteratursällskapet i Finland www.sls.fi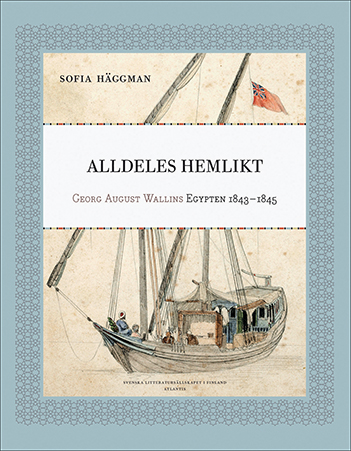 The turbulence of contemporary Egypt is placed into fascinating historical relief when Sofia Häggman travels in the footsteps of the Finnish explorer and adventurer Georg August Wallin (1811–52). After his sojourns totalling seven years on the Arabian peninsula, Wallin became Professor of Oriental Languages at the University of Helsinki. Sofia Häggman has discovered a curious and receptive historical 'travelling companion' in Wallin's archive of papers and correspondence. In this book, she guides us skilfully through his first expedition to Egypt.
Wallin, who possessed a prodigious gift for languages, acquired Eastern clothing and gestures so as to blend into the local culture as rapidly as possible:
"My face had by now become quite well browned as well, so that people, as they had told me initially upon my arrival here, did not need to fear my white paleness, and I had attempted to put the Oriental apathy and indifference into my gait and my gestures, thereby succeeding completely in being taken for a Moslem."
Wallin's main research task was to document the local languages, dialects, modes of expression and poetry. The studies he managed to publish before his untimely death at the age of 40 secured his fame throughout European scholarly circles, resulting in accolades such as a prize from the Royal Geographic Society in London.
Besides linguistic research, Wallin's journals and letters contain thousands of pages of highly detailed, perceptive descriptions of clothing, hairstyles, cuisine and eating habits, and architecture in the Cairo of that era, as well as those he encountered on a journey down the Nile – an anthropological gold mine.
This unique collection of material has long been difficult to access. As Sofia Häggman now guides us through Wallin's Egypt, she re-opens a treasure trove of colours, scents, customs and human life in an 'Orient' which still only a very few Europeans had visited and documented by the 1840s.
Wallin's manuscripts bear witness to his curiosity, broad-mindedness and genuine interest in the culture he was studying. The temptation for this anthropologist to 'go native' was furthered by his erotic appetites – also documented, in a code devised by Wallin himself: Swedish written in Arabic script.
Wallin was also one of the first documented Europeans ever to join the pilgrims journeying to Mecca, where he touched the holy Kaaba stone.
This wonderful book by Sofia Häggman is lavishly illustrated with pictures including contemporary sketches by Hubert Sattler, an Austrian who travelled with Wallin along the Nile. Dr Häggman's photographs and her own observations from the places visited by both Wallin and herself provide us with a dual view of Egyptian culture straddling a period of nearly 170 years.
Trygve Söderling, translation Ruth Urbom