Samlaren
"The collector"
Schildts & Söderströms (2012), 191 pp.
Rights: Schildts & Söderströms www.sets.fi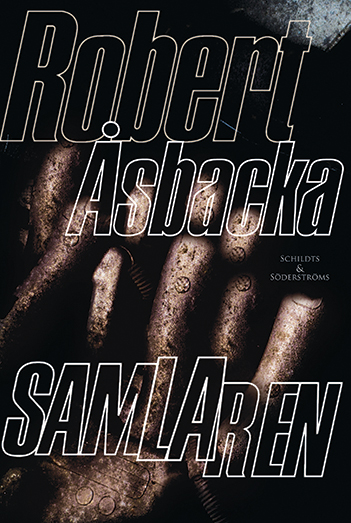 A portrait of youth, where the everyday meets the unprecedented. In this brief novel, Robert Åsbacka writes about Tom, a 13-year-old loner hanging around in a small town somewhere in Sweden in the winter of 1969. He spends his days skiving off school, smoking in secret and nicking stuff; his dreams are of having his own room, a record player, of growing up. He misses his mate Mats, who moved to Trollhättan a while back – a metropolis of such cosmopolitan dimensions that it's possible to buy the latest Rolling Stones LP mere weeks after its release.
Tom's existence is overshadowed by a couple of schoolmates who regularly beat him up and extort money from him. A tiny gleam of light in his bleak, menacing environment are his two neighbours – a young couple who buy, sell and repair American cars. A sense of trust sprouts up, particularly between Tom and the pretty Viola. When Tom's former friend Mats finally turns up on a visit, events take a dramatic turn.
Alongside this tale of an off-kilter youth, an investigation is going on (in the form of extracts from a 'police blotter') of a puzzling, brutal murder that was committed in the adult world, which we have glimpsed through the boys' eyes. The two stories encroach upon one another by virtue of their shared time and place. But primarily psychologically – it is as if the only way even to try to comprehend the perpetrator of the killing is via the world of the lost prepubescent youths we meet in the novel: a world characterised by tedium and rootlessness, where violence always seems to be lurking below the surface.
Robert Åsbacka's original, highly perceptive story of youth would be difficult to bear if its language were not so precise and sensitive. Tom's laconic narrative, poignant as a result of the young lad's absolute vulnerability, serves up sorrow and loneliness – but also some very subtle humour.
Loneliness and physical violence are present throughout Robert Åsbacka's output like dark seams. One key to his range and versatility might be his career history: he has worked in manual occupations, including as a seaman, and has taught at the university level. He stands out in his portrayals of everyday life in Sweden, but his works have been published and well received in Finland in both Swedish and Finnish.
Trygve Söderling, translation Ruth Urbom