Gräset är mörkare på andra sidan
"The grass is darker on the other side"
Schildts & Söderströms, 423 pp. (Finnish-language version published by Teos)
Rights: Schildts & Söderströms www.sets.fi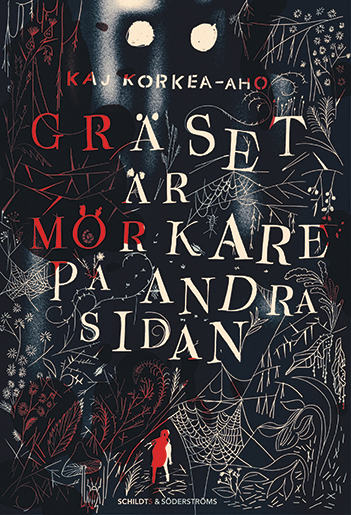 In the town of Gränby in west-central Finland preparations for the popular Storsjöaloppet race are well under way. As in previous years, Benjamin Fogde is in charge of organising the event. He is currently out marking the route through the woods. His wife Sofie, who is known for her excellent sense of order and her organisational skills, ensures there is plenty of lingonberry drink for all the competitors. Of course, the most important things are a sense of community and making sure everyone has a good time, but this race is still something that people take as seriously as the Olympics.
The first sign that this year's race will not go according to plan is the strange earthquake that lasts for 20 seconds, providing the big topic of conversation that morning. But by the time the day is over, everyone will have far bigger, more horrible things to think about.
The first, and biggest, scandal is that Pastor Simon Fredström cheats in the race. Soon afterwards, Sofie is killed in a car crash. Afterwards nothing is as it had once appeared.
Benjamin's life is turned upside down when, overcome with grief at the death of his wife, he begins to delve into the accident and discovers things he would rather not have known. A photo snapped by a speed camera a few moments before the crash shows that Sofie was not alone in her car. Why was she going 120 km per hour on a winding road when she always observed the speed limit – what was it that made her lose control of the car?
All the old gang – Loke, who has managed to become a TV celeb in Helsinki despite his heavy stammer; Christoffer, who is soon to be married to his boyfriend but still isn't entirely comfortable with his homosexuality; as well as Simon and Benjamin – gather together for Sofie's funeral. Shadows from the past, previously repressed and explained away, begin to unfurl and gradually emerge.
What really went on in the enigmatic circumstances surrounding the death of Loke's mother: did she really fall, as his father claimed? Who killed the little girl by the strange name of Sidrid Ask? And what about the huge, dark forest that fills people with an icy fear: is it Raamt, evil itself, come back to life? What can people believe in nowadays, and who is safe? Which should people fear more, supernatural evil or the everyday, human sort which seems to be everywhere?
Readers will feel twinges of uneasiness at the small-town mentality that is claustrophobic, bordering on cruel, where bullying, domestic violence, religious fanaticism, suicide, murder – nearly anything at all – can take place, then be explained away and forgotten. Gränby could be located anywhere.
Kaj Korkea-aho has written an intricately detailed novel with a keen ear for language. This book is filled with fear, evil and supernatural phenomena, yet also with humour and warmth. It doesn't let up on the pace for a second: the plot proceeds at an addictive pace, with plenty of unexpected twists and turns. Without losing his grip, Korkea-aho manoeuvres his novel from a biting parody via thriller territory into a lovely, serious portrayal of the power of friendship.
Tiia Strandén, translation Ruth Urbom