Jäätelökauppias
"The ice-cream seller"
Tammi (2012), 294 pp.
Rights: Elina Ahlbäck Literary Agency www.ahlbackagency.fi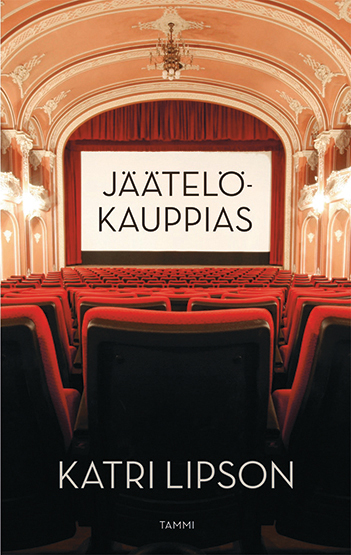 Katri Lipson's debut novel, Kosmonautti ('Cosmonaut', 2008), garnered unanimous critical praise of a magnitude rarely seen. Besides being nominated for the Finlandia prize for fiction, it received the Helsingin Sanomat newspaper's award for the best debut novel of the year. That book was set in the freezing city of Murmansk in Soviet Russia, where young Sergei longs to fall in love and get away. A melancholy love story, blending elements of non-fiction about a Soviet cosmonaut hero, was an impressive debut.
Her eagerly awaited second novel also goes beyond Finland's borders: much of it is set within a European intellectual landscape and the political climate of the last decade. The book begins on a film set where the director wishes to work without providing the actors with a script in advance, much to their annoyance. The action in the film takes us back to Czechoslovakia in 1942, where a man and a woman are on the run through the countryside. They pretend to be a married couple and settle down in a widow's house. Their joint fate, fear, desire and erotic tension are evident in the skilfully constructed encounters in which everyone's ability to remain in control hangs by a thread. Katri Lipson's gift for storytelling comes into its own as she strips people naked by the sheer power of words.
Lipson is a master of literary technique and pacing. The refugees may be reunited in the events in the book that take place in the 1960s and '80s, and the director may be the title character, a Jewish ice-cream seller who escapes from a concentration camp. A woman who views the film believes that her story has been stolen, and her son Jan takes the story, which at times verges on the comical, up to Sweden. Readers can fit the pieces into place themselves.
Touches, encounters, realisations and rapid edits come together to create this novel with themes that extend in many directions. One of its key themes is the close affinity among nationalism, resistance and sexual desire – inevitably inviting comparisons with the themes in the internationally acclaimed works of Sofi Oksanen. A socially conscious Swedish student in 1960s Gothenburg wants to go to bed with 'Prague', not with the young man called 'Jan'.
Katri Lipson's novel is technically accomplished in its use of multiple narrative perspectives and constitutes a thematic and stylistic whole that makes one tempted to call it a happy slice of life, in spite of everything. That's how involved, interesting and irresistible it is. "The truth is, when you get right down to it there aren't all that many stories," as the ice-cream seller in the book puts it. That all depends how an author assembles the images and encounters – and Lipson does it with consummate skill.
Nina Paavolainen, translation Ruth Urbom