Piippuhylly
The pipe collector
WSOY (2013), 236 p.
Rights: WSOY Foreign Rights http://foreignrights.wsoy.fi/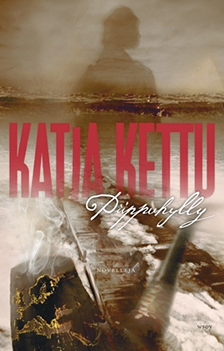 The Finnish word Piippuhylly (literally, the pipe rack) that forms the title of Katja Kettu's latest book refers to the top row of a stadium – its practical meaning is derived from the old custom of putting tobacco pipes on the top shelf, out of the reach of children. These associations are also retained in Kettu's book: its short stories, set in northern Finland, are more akin to folk tales for adults. Piippuhylly ("The pipe collector") can also be approached as an independent narrative, but if one has read Kettu's previous novel Kätilö ("The midwife", WSOY, 2011) it feels a bit like forbidden fruit. Some of the stories of Kätilö's characters are continued in narratives that are not really meant for children.
Kätilö throws the reader into the middle of the Second World War in 1940s Lapland, and tells the story of a love affair between a Lapp midwife and a Nazi SS officer amidst the mercilessness of war. Piippuhylly's narrator is the midwife's father, Pietari Kutila. Pietari, who has taken many sides during his life, codes secret messages on the world's pipe rack in Dead Man's fjord. His collection consists of pipes that have been washed up on the shore of Arctic Ocean from every corner of the world, and Pietari writes down their stories for his daughter whom he abandoned when she was a child. The book begins with a covering letter from Pietari, and then each chapter tells the story of one of the pipes. In the end the inter-crossings of persons and places unite to form the story of Pietari himself, the book's narrator.
And what stories they are. They explore the furthest limits of people and circumstances, and scour the deepest caverns of the mind and body. Political correctness and conventional morality end up in the dustbin when Pietari tells the story of the Berber woman who ended up as a prisoner of male Lapps on Salmisaari, or the transgender field doctor who finds his inner woman in the favelas of Rio de Janeiro. Kettu writes about madness and prostitutes, and spices her stories with so much sensuous eroticism that Fifty Shades of Grey looks like pale stuff indeed.  At the same time the author describes the human destinies that are missing from the pages of the history books. Kettu is extremely good when writing about imperfection and even evil, which nonetheless has a human face.  She also portrays friendship, with a special emphasis on warmth and sisterliness between women. It is all flavoured with a generous, sparkling humour and a magic that eschews realism. As it says in the book: Don't mourn for the dead, mourn for those who are afraid of death. Katja Kettu's fearlessness and verbal virtuosity combine to create a reading experience of great beauty.
Johanna Sillanpää, translated by David McDuff