Frihetens pris är okänt. Om demokratiska revolutioner i Georgien, Ukraina och Kirgizistan
"The price of freedom is unknown. On democratic revolutions in Georgia, Ukraine and Kyrgyzstan"
Schildts & Söderströms (2013), 213 pp.
Rights: Schildts & Söderströms www.sets.fi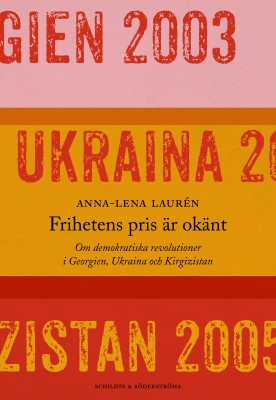 Up-to-date eyewitness accounts are combined with dialogues, interviews and political analysis in this volume of Anna-Lena Laurén's reportage from three very different countries: Georgia, Ukraine and Kyrgyzstan. All three countries used to form part of the periphery of the former Soviet empire, but they also share another, more special trait in that they all underwent popular revolutions in the early 21st century. The struggle against corruption and autocracy has been more successful in these countries than in most of their neighbours. Even so, all three have also experienced significant setbacks and relapses into authoritarian forms of government. The spirit of democracy has surfaced, but it has not yet taken up permanent residence.
By travelling around with her eyes open and speaking with people from all walks of life, from the woman on the street to the man in the mountains, to researchers, politicians and heads of state, Laurén maps out the reality that lies beneath the oft-repeated slogans about freedom and democracy. Some of the people she meets interpret 'freedom' solely as referring to economic wealth for themselves and their close associates: freedom from taxes and social cohesion. The idea that 'democracy' does not include crushing one's political opponents or oppressing ethnic minorities is not necessarily an insight that occurs overnight, either. These democratic revolutions have been an uneven, often arduous process that also includes disappointments. This is referred to in the book's title: The price of freedom is unknown.
Anna-Lena Laurén provides a committed, complex and impartial investigation of three countries which do not often feature on the international news agenda. With this book, she is also contributing to a greater understanding of the dynamics of contemporary revolutions and government overthrows. She draws clear parallels with other recent upheavals, such as those in the Arab world.
Trygve Söderling, translation Ruth Urbom