Huimaavat korot – luksuskenkien vaarallinen viehätys
"Vertiginous heels – The dangerous allure of luxury shoes"
Atena (2010), 233 pp.
Rights: Atena www.atenakustannus.fi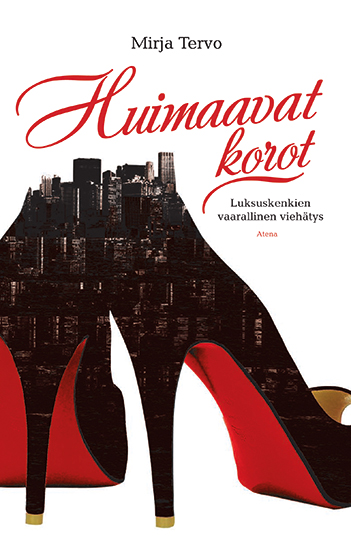 Even readers who are committed wearers of sensible footwear will be unable to resist being carried along into the world of a luxury shoe shop in New York, which was ethnologist Mirja Tervo's life for over a year. Having made it through an exacting search process, she became a shop assistant in an exclusive shoe salon, where a typical pair of high heels sells for $560. The job in the shop lost its glamour after only a few months, but Tervo the researcher wanted to observe the shoe shop throughout an entire annual cycle.
With sharp humour she recounts her place of employment. It was a place redolent with the odours of refined perfume as well as stinky socks, corns, wealthy yet boorish customers devoid of taste and basic manners, bossy old crones and nasty girls, "prima donnas in sunglasses bigger than the dogs they carry under their arms." And she had to fight to serve these customers because she was paid on a commission-only basis.
A strange, captivating world is revealed to the reader: why are so many women – and a few men – prepared to spend thousands of euros to acquire high-heeled shoes that are so unsuited to walking in? Why do women agree to pay three thousand dollars for a pair of shoes with heels so high they can only sit down while wearing them? Do high heels constitute footwear, status symbols or a barometer of sexual allure? What do gnarled toes tell us about their owners or about changes in footwear fashions? What does foot fetishism tell us about women, men and society? What messages do we send out with our shoes? Mirja Tervo maintains that when we put on a pair of high-heeled shoes, we are putting ourselves voluntarily into the stocks. We drag around a symbolic tribal tradition of femininity on our feet like a millstone, without thinking of anything but the visibility of our shoes and legs. We don't even have a sense that we are being shackled under a cultural yoke – quite the reverse, in fact.
This book is a fun, entertaining and thorough excursion into the world of shoes, which Mirja Tervo reveals to us with an ethnographer's precision. The shoe salon – with its clientele, sales staff and unpleasant bosses – opens up beneath the researcher's analytical magnifying glass. In her job there, Tervo learned to understand the pecking order in the court of shoes, to recognise different types of customers and above all, to wear flat shoes herself.
Vertiginous heels has sold around 15,000 copies in its hardcover edition in Finland and nearly 10,000 in paperback. In the year of its publication, the paperback version was on the list of Finland's Top 10 bestsellers from May to September 2010.