Människan Vivica Bandler: 82 skisser till ett porträtt
"Vivica Bandler, the person. 82 sketches for a portrait"
Schildts (2011), 280 pp.
Rights: Schildts & Söderströms www.sets.fi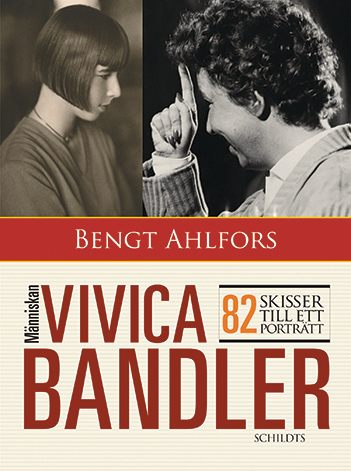 Vivica Bandler (1917–2004) was a creative force in the life of Finnish and Nordic theatre for half a century: bold, inventive and equipped with an indomitable natural authority. As she put it in one of her many bons mots, "Finland and I are the same age, but Finland gained its independence a little sooner." That gives some indication of the scale of her ambition.
Bandler's first and perhaps most fabled creation as the head of a theatre was the Lilla Teatern ('Little Theatre'), a Swedish-language alternative venue in Helsinki, which she purchased in 1955 and rapidly spruced up, both in its scope and aspirations. Under Bandler's watch, the theatre's repertoire was decidedly international, often experimental; it introduced a number of new dramatists to Finland including Edward Albee, Jean-Paul Sartre and Eugène Ionesco. At the same time, Bandler made great efforts to promote new Finnish drama through commissions and an active repertory policy. On top of all that, the Little Theatre succeeded in capturing the public's interest, periodically attaining genuine popularity.
During Vivica Bandler's era the theatre fostered an ensemble that included a number of actors, directors and playwrights who would go on to join the ranks of Finland's most notable figures in their field, individually as well as collectively.
In the 1970s Vivica Bandler served as the head of the Stockholm Stadsteater, where she succeeded in making that major stage flourish. Her personal links with leading European theatre figures helped to widen the Stadsteater's horizons; one of Bandler's many personal friends was the Nobel Prize-winning Italian dramatist Dario Fo.
This book by Bengt Ahlfors, subtitled Sketches for a portrait, contains a multifaceted portrayal of a fascinating, dynamic life. It supports a reading as an study of the issues surrounding leadership in the sensitive artistic environment of the theatre. The text is enriched with some of Bandler's own numerous statements on leadership:
"Just when it's going well – that's when you need to 'stir things up' as a manager. In many cases, so long as you're building up an idea, everything is just fine. It's when everything is up and running that the danger comes. The danger of stagnation. Then you've got to find new ways, turn the previous state of affairs on its head. You've got to run the risk of becoming unpopular."
The private side of Vivica Bandler's life was no less dynamic than her public work. Bengt Ahlfors terms Bandler 'an erotic beast' and provides many examples of her appetite for life in this area as well. One of the most significant relationships – for both parties – was her brief yet intense affair and life-long friendship with the artist and author Tove Jansson, the creator of the Moomins. Extracts from Bandler's love letters confirm the impression of her as a fine prose stylist: terse, witty, heartfelt and psychologically perceptive. Although Vivica Bandler never published a work of literature herself, she remains a key virtual contributor to this book by Bengt Ahlfors.
Trygve Söderling, translation Ruth Urbom