Galtbystä länteen
"West of Galtby"
Teos (2013), 340 pp.
Rights: Stilton Agency www.stilton.fi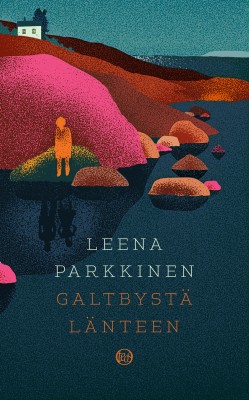 Leena Parkkinen is one of the leading Finnish writers of her generation. Her  debut novel, Sinun jälkeesi, Max ("After you, Max", 2009), garnered enthusiastic reviews. Galtbystä länteen ("West of Galtby", 2013), Parkkinen's latest novel, provides further proof of her self-assured skill in creating a novel that is gripping, touching and rewarding. It tells of a close sibling relationship, feelings of being an outsider and a tragedy that is not forgotten, even decades later.
Events in the book get under way when Karen, an 83-year-old woman, departs for Fetknoppen, the island where she grew up. She wants to find out the truth about what happened in 1947, when a girl her own age called Kersti was found murdered and her brother Sebastian was held responsible. Karen is certain of her brother's innocence, but he was an easy scapegoat for the island residents, who always thought him a bit odd.
During the course of her journey Karen takes on 17-year-old Azar as her companion and assistant. Azar was in the process of holding up a petrol station when Karen came onto the scene. Azar is in fact a nice girl who just got involved with the wrong crowd. She is pregnant by one man and in debt to another, so she finds it easy to take Karen up on her offer: she'll get some money and a chance to get away from her own mixed-up circumstances.
Karen and Azar do not entirely trust each other at first, but the fugitives need each other, so they zoom off together towards Fetknoppen in a 1956 Plymouth Fury, take up residence in Karen's childhood home and set about solving the mystery from the past. If Sebastian was not guilty, why did he kill himself while awaiting the court's verdict? New aspects of Sebastian's life are gradually revealed: forbidden love and harsh experiences in the war.
Karen is described as having 'a brain like a Japanese kitchen knife, the will of a polar bear and an overcoat of cashmere, with a sealskin collar.' This elderly, sprightly, sharp woman is a fascinating character. Her long life has included three marriages and the world around her has undergone significant changes, just as she herself has done.
Azar, whose family origins are in Iran, provides a view of contemporary Finland. Azar has always stood apart from the crowd, even though she was born in Finland and has lived her whole life there. Her parents have been driven apart by the twists and turns of their lives. Azar's father wanted to adapt to his new country in every way possible, while her mother has returned to the Iran of gardens and family celebrations. Azar has two languages and two cultures, but she is still like any young girl growing up, just wanting to get by.
Galtbystä länteen moves smoothly between the 1930s–'40s and 2012. Leena Parkkinen's narrative is precise and meaningful. The tapestry is built up one piece upon another, and the shifting perspectives shed light on different aspects of the whole. The secrets that are uncovered lend this book a strong, thriller-like tension, transporting the reader deep into the story. The setting for the events – the stark beauty of the Finnish archipelago – also contributes to the atmosphere.
Ilona Lindh, translation Ruth Urbom