Susimessu
"Wolf mass"
Siltala (2009), 320 pp., illustrated section
Rights: Siltala www.siltalapublishing.fi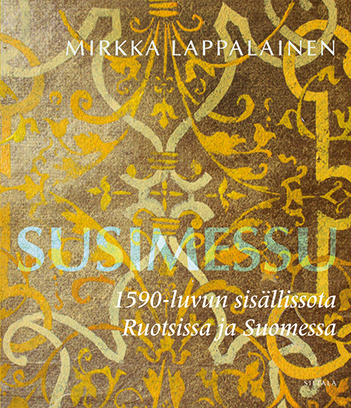 "In the summer of 1598, Finns invaded Sweden."
Thus begins Mirkka Lappalainen's Wolf mass, a study of the crisis in the Nordic region in the 1590s. With Sweden and Finland embroiled in a civil war, Protestant Duke Charles deposed Sigismund, the Catholic king of Sweden and Poland, and overthrew the power-hungry Swedish aristocracy. These events in the Nordic region determined the future of all of northern Europe.
Mirkka Lappalainen's fluidly written book evokes the political upheaval of that era. Prior to the 16th century, the Catholic Church had been more powerful than nations, the Pope mightier than kings. The 16th century ushered in despotic rulers with large-scale armies. The Reformation eroded the power of the Catholic Church and threw Europe into chaos. Even the distant Nordic lands were caught up in religious wars.
Much has been written about the crisis of the 1590s and its bloody war, but no coherent overview has emerged until now. Wolf mass examines the story of the great civil war in its entirety, showing the links between political struggle, the Counter-Reformation and events in Finland. How could it happen that strife-riven, religiously fragmented Sweden transformed into a uniformly Lutheran, rising superpower at the start of the 17th century?
Mirkka Lappalainen has written a highly analytical, fresh portrait of an era when the world was changing in many ways. She has managed to cast new light on the fabric of events of the 16th century. A number of chains of events culminated in the peasants' revolt that is known in Finland as the 'Cudgel War'. Lappalainen dispels the nationalistic mythology surrounding the Cudgel War and shows how a crisis that boiled over into a fully fledged civil war could have broken up the nation and torn Finland and Sweden apart as long ago as the late 16th century. Then Finland would have become part of Poland and would be a Catholic country today.
Wolf mass was selected as the Finnish history book of the year in 2009. In 2010 it was awarded the Lauri Jäntti Prize and the Urho Kekkonen Award, granted by the Ministry for Foreign Affairs of Finland.