Applications for translation and printing grants are assessed by FILI's advisory board. FILI's director serves as a member of the advisory board. A list of successful applicants is published on FILI's website around 6 weeks after the end of each application round, following the advisory board meeting. The management board of the Finnish Literature Society, SKS, is notified of grants awarded.
All applicants will be notified by email when the results of their application round are announced, and successful applicants will receive details of their agreement and grant amount.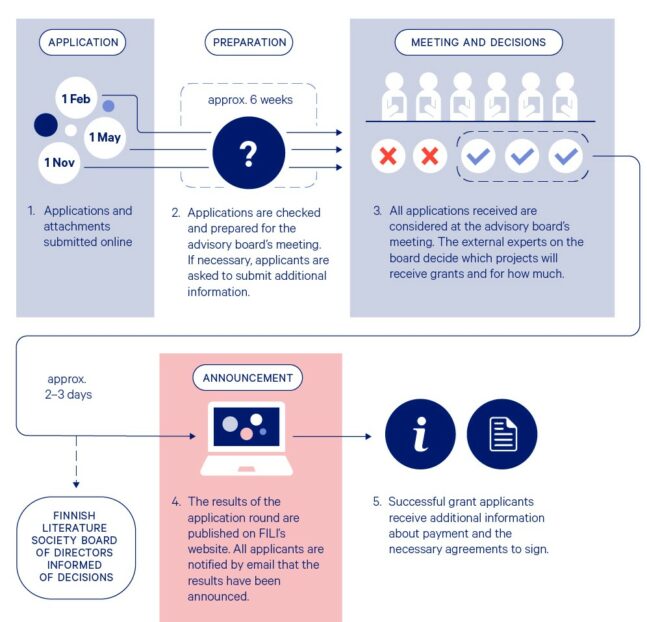 The advisory board is notified of sample translation grants awarded. Applications for sample translation grants can be submitted on a rolling basis.
Decisions on promotional grants and reader's report grants are made by FILI. Applications for these grants are accepted on a rolling basis.
Evaluation criteria
Applicant's well established, professional publishing activity, including professional marketing and distribution channels.
Translator's professional skills.
Common reasons for rejecting grant applications
Specific reasons are not given for unsuccessful applications. Common reasons for rejecting grant applications are:
More applications than grant money available.
Incomplete application (usually file attachments).
Details of licensing agreement unclear.
Publication date of the translation.
Inexperienced translator (we recommend mentoring for beginner translators).
FILI's advisory board for 2022
Minna Castrén (literary director)
Kalle Hakkola (expert in comics and graphic novels)
Olli Löytty (PhD, associate professor, representative of Finnish Literature Society Board of Directors)
Stefan Moster (translator and author)
Ville Rauvola (publisher, chair of advisory board)
Julia Tidigs (PhD, associate professor)
Riina Vuokko (translator, deputy chair of advisory board)