Janina Orlov, Ph.D. (b. 1955) has brought many works of contemporary Finnish literature to Swedish-speaking readers in her widely praised, award-winning translations. She has translated from Finnish into Swedish around thirty works. On 19 November 2015 Finland's Culture Minister Sanni Grahn-Laasonen presented Janina Orlov with the Finnish State Award for Foreign Translators, a prize worth €15,000.
Some of Janina Orlov's most recent critically acclaimed Swedish translations include novels by Sofi Oksanen (published by Bonnier), a winner of the Swedish Academy's Nordic Prize; The Midwife by Katja Kettu (original title: Kätilö, published in Swedish as Barnmorskan by Albert Bonniers Förlag); and Compartment No. 6 and Passing Things by Rosa Liksom (Hytti nro 6 and Väliaikainen, published in Swedish as Kupé nr 6 and Sånt är livet by Wahlström & Widstrand). Dr. Orlov has also translated over a dozen children's and young adult books for various publishers.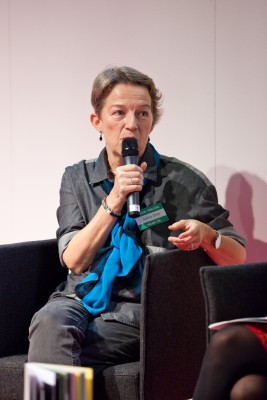 Janina Orlov has praised the quality of contemporary Finnish writing as well as publishers' increased interest in cooperating across both sides of the Gulf of Bothnia. She hopes to be able to continue to make even more high-quality Finnish books for children and young people accessible to Swedish-speaking readers.
Dr. Orlov is currently working on her translation of Sofi Oksanen's latest novel, Norma. Besides her translation work, she is a lecturer in children's literature at the University of Stockholm. She has published many articles on the subject, written a regular column and lectured in a number of countries.
She also plays an active part in promoting the literary translation profession: she has led numerous translators' seminars and served on various committees. She is currently a member of the Adjudication Committee for the Nordic Council Children and Young People's Literature Prize and formerly served on the executive board of the Swedish Writers' Union from 2008 to 2013 and chaired the Baltic Writers' Council from 2009 to 2015.
The Finnish Ministry of Education and Culture has given out the State Award for Foreign Translators since 1975. The award includes a cash prize of €15,000 and is given annually to a distinguished translator of Finnish literature as nominated by FILI – Finnish Literature Exchange.
For more information, please contact:
FILI – Finnish Literature Exchange
Communications Manager Silja Hakulinen, puh. +358 40 534 7526