A Selection of Finnish Children's & YA Literature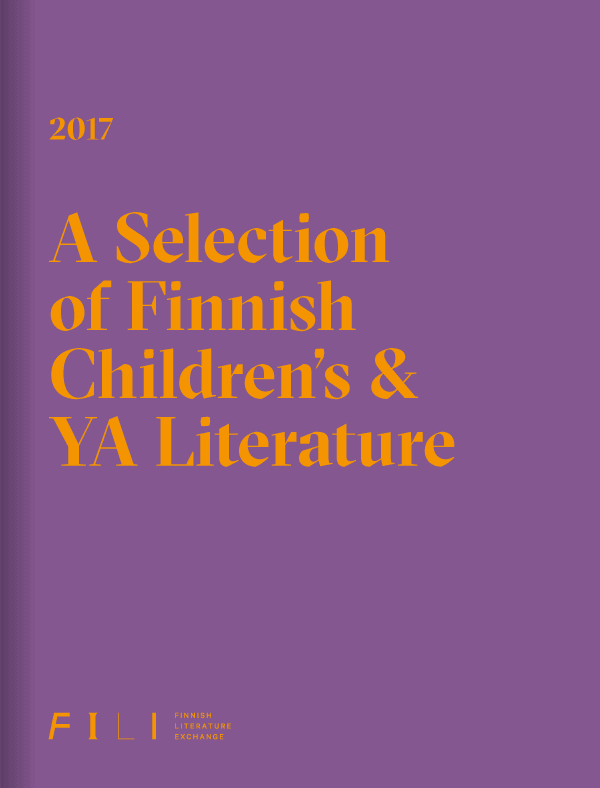 Finland has long had a reputation abroad for high literacy levels and a progressive education system. Finnish children listen to lots of stories read aloud, and Finns consider their libraries a fundamental right – one that is actively supported. We can also be proud of the people who produce our books: brave contemporary storytellers and illustrators whose works remain relevant over time. Tove Jansson, Kirsi Kunnas, Marjatta Kurenniemi and Elina Karjalainen are just a few examples of writers and illustrators whose books feel as fresh today as they did when they were published in the 20th century.
Things are going pretty well for children's literature in Finland right now. Library loans of children's and YA titles have shown a steady increase. Sales of children's books in Finland are flourishing. Around a thousand titles are published annually, with books by Finnish authors representing just under half. An important recent development is the explosion in the number of small presses, bringing a huge increase in diversity among children's books. People working with children's and YA books are diverse, active and eager to find new ways of working.
Finnish children's books have been attracting attention abroad as well recently. Salla Simukka's Snow White trilogy has exceeded all expectations, with translation rights to her novels sold into over 50 territories, surpassing even Tove Jansson's Moomins. Film rights for works by Salla Simukka, Tuutikki Tolonen and Maria Turtschaninoff have been optioned by major production companies in the US and UK.
What sorts of themes are Finnish children's and YA books addressing these days? Children's literature has traditionally held up a mirror to society. Finnish books for children have dared to raise issues like climate change and contemporary issues that play a role in children's lives. Recent children's books have depicted changing families, multiculturalism and searching for your own identity.
Feelings and dealing with emotions are a common theme in picture books for small children. Tomi Kontio and Elina Warsta's A dog named Cat (original title: Koira nimeltään Kissa, published by Teos in 2015), nominated for the Nordic Council Children's and Young People's Literature Prize, deals with loneliness and social issues in its child-friendly treatment of the friendship between a homeless man and a stray dog. YA books have long dealt with young people's anxiety issues, and this topic now seems to be moving into books aimed at younger children as well.
Dystopian fiction is one of the most popular genres in Finnish YA fiction. Now there are also some excellent works exploring young people's gender identity and approaches to multiculturalism. These new themes are also evident among the works nominated for the 2016 Finlandia Junior Prize, Finland's most prestigious award for children's/YA literature. The list of nominees includes three books aimed at teens and young adult readers. Siri Kolu's novel After this summer everything will be different (Kesän jälkeen kaikki on toisin, Otava 2016) deals with the world of a young person undergoing gender reassignment. The Finlandia winner, Juuli Niemi's You Won't Walk Alone (Et kävele yksin, WSOY 2016), gives an unvarnished portrayal of first love that crosses cultural lines. Seita Vuorela's posthumously published work Snow (Lumi, WSOY 2016) explores identity issues among young Finns from immigrant backgrounds growing up between two cultures.
Finnish children's and YA publishing has also seen a minor wave of non-fiction books achieving big sales. Linda Liukas crowdfunded a US edition of Hello Ruby, a series about computer coding that was later published in Finland by Otava. It provides a tool for educational settings that transcends traditional gender roles. Two books by Jenni Pääskysaari – Girl, you are… (Tyttö sinä olet…, Otava 2015) and Boy, you are… (Poika sinä olet…, Otava 2016) – offer support for young people as they grow and construct their own identities, with a fresh voice that appeals to teens.
Non-fiction books have also moved in some bold new directions with their writing and illustrations. Laura Merz and Aino Järvinen's A thousand and one critters (Tuhat ja yksi otusta, Etana Editions 2016) sets out to investigate animals' behaviour with simple stories and ink drawings. Meanwhile, The Night: A book about sleep and the secrets of the dark (Yö: Kirja unesta ja pimeän salaisuuksista, Myllylahti 2016) by Laura Ertimo and Satu Konttinen takes readers on a night-time journey through fantastic illustrated worlds, exploring human physiology, nocturnal animals and even stories set in the night.
Finnish children's literature retains some strong, simple traits at its heart: jolly everyday activities with silly mishaps along with joyful humour. Series of books by Timo Parvela and Tuula Kallioniemi following the lives of primary school-aged kids have been big hits in Finland and abroad. The undisputed favourite among pre-schoolers is the picture-book world of Tatu and Patu, created by Sami Toivonen and Aino Havukainen. It's a place buzzing with fun and endless visual gags.
Finally, it's worth turning briefly to Finnish illustration, which certainly deserves its place in the spotlight. We can trace Finland's hundred-year history by following a string of its brilliant children's book illustrators. Rudolf Koivu and Maija Karma built the foundation of Finnish picture books in the country's early years of independence with their illustrations for Finnish and international children's classics. Their successors over the decades have included innovative, distinctive illustrators whose picture-book worlds have delighted generations of young readers.
Tove Jansson created the Moomins' world as a refuge from the horrors and hopelessness of the Second World War. The Moomins' enduring popularity can be attributed to their combination of innocence, security and melancholy depicted with sensitive brushstrokes. In the late 20th century, Finnish children's books and their illustrations took on a greater degree of social criticism and realism. In the 1970s, Camilla Mickwitz brought a humorous, critical approach to emerging new family types and parents' impact on their children's lives. Many Finnish children's authors and illustrators working today, such as Kristiina Louhi, are following in Mickwitz's footsteps by focusing on everyday life and dealing with occasionally difficult topics.
But contemporary picture books do not stand in the shadow of their predecessors. Finnish illustrators are skilled storytellers, garnering acclaim at home and abroad. There is a broad spectrum of styles on show in today's picture-book illustrations. Graphic-inspired styles and minimalism have been on the rise in recent years in works by artists such as Matti Pikkujämsä, Réka Király, Hanna Konola and Marika Maijala. Other illustrators, including Linda Bondestam, Christel Rönns and Sami Toivonen, convey a laid-back, quirky style with multi-layered humour. It's worth checking out the full range of Finnish illustration, some of which is also making an impact outside Finland. Contemporary illustrators like Elina Warsta (mentioned above), Anne Vasko, Satu Konttinen and many others certainly deserve wider recognition beyond Finland's borders.
In the future, children's and YA literature will surely continue to be based on good stories that get children and young people of all ages – as well as their parents – hooked on books. The challenges of reaching readers are likely to grow even bigger. We're already seeing how product ranges are springing up around favourite children's books. This fan culture is sure to increase, offering infinite possibilities for new kinds of interaction with readers. I hope we'll also continue to produce experimental, innovative, niche books that manage to find their own readers.
Looking forward to future challenges,
Paula Halkola, Director
The Finnish Institute for Children's Literature